LOVING OUR NEIGHBORS
"Love the Lord your God with all your heart…soul…mind… and strength. Love your neighbor as yourself. There is no commandment greater than these." Mark 12:30-31
We invite you to consider our electronic giving program as a way to automate your regular weekly offerings. If you wish, you will also have the opportunity to make "other" donations electronically, such as Christmas, Easter, Benevolence Support, Music Outreach, etc.
Electronic giving is convenient for you and provides much-needed consistency for our church. There is no cost for you to participate. If you are currently giving on a weekly basis, you will no longer need to write out 52 checks a year or prepare 52 envelopes. And when travel, illness or other circumstances prevent you from attending services, this program will enable your weekly offerings to continue on an uninterrupted basis.
INTRODUCING "Give + Text"
You can now make a contribution to Good Shepherd by TEXT! Simply send a text message to the Good Shepherd Church, 10-digit GivePlus Text Number: 877-771-4850 with the amount you would like to contribute. Within a few minutes, you'll be sent a text with a link to register. Click on the link and enter your cardholder name and credit or debit card information. Once your registration is complete, you will receive a text verification and a receipt of your donation via email. For future giving, send a text with the amount you wish to give, and it will process automatically! You can even text "repeat" to make it a recurring donation. We hope you enjoy this new way to share your generosity, and we thank you for supporting Good Shepherd Church!
Mobile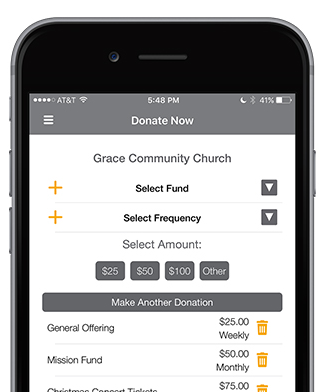 Give with the convenience of Mobile
Download the App

Find Good Shepherd Lutheran Church

GIVE!